TO BE RELEASED ON MARCH 8, 2019
ATMA Classique presents an evocative musical portrait of Canadian composer Ana Sokolović. This new recording features the Ensemble contemporain de Montréal, soprano Florie Valiquette, mezzo-soprano Krisztina Szabó, and vocal ensemble Queen of Puddings Music Theatre. The human voice is at the heart of Sokolović's work, so that it is fitting that her vocal works Sirens, Tanzer Lieder and Pesma are featured on this ATMA debut recording. Evta, a concerto for violin and ensemble, is included and features Andréa Tyniec as soloist.
Order the recording here!
19.02.2019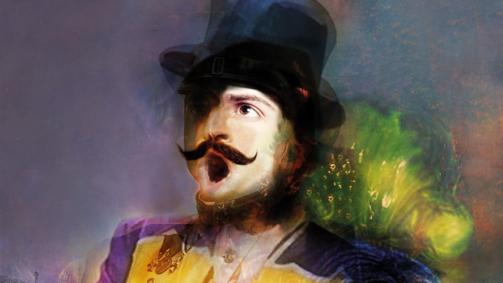 Florie joins the Troupe Favart at Opéra-Comique in Paris!
Associate singer for the 2019 season, she will perform the role of Madeleine in Le Postillon de Lonjumeau, alongside with Michael Spyres in the role of Chapelou. The new production will be presented from March 30 to April 9 2019, conducted by Sébastien Rolland and staged by Michel Fau.
Discover Opéra-Comique new season here below and purchase your tickets here!
19.09.2018
Les Moments lyriques announce their season
Eve Ruggiéri, Artistic Director of Les Moments Lyriques de Chartres et d'Eure-et-Loir, presents the programmation of this new edition of the Festival, which will take place this year from October 3rd to 7th. A Rendez-vous under the sign of renewal.
Florie will sing Pergolesi's Stabat Mater and Händel's Dixit Dominus with the Prométhée Orchestra and Olivier Bardot as Musical Director.
Discover the full program here!
04.09.2018
L'incoronazione di Poppea starring Julie Fuchs and Stéphanie D'Oustrac obtains a great success at Opernhaus Zürich! Watch the trailer down below!
Book tickets here!
30.06.2018
Florie will give her voice to the french version of Coraline at Opéra de Lille in November 2018
Nearly a century and a half after the famous Alice, England conquered the world with a new child heroine: Coraline. But where Alice was the toy of events, Coraline is a modern little girl of the twentieth century, mischievous and cunning, who does not let it count ... even if it is a tale. And that's good, because the world she's going to discover behind the door of her house is much darker than the world of wonders. Another side of the mirror where everything seems perfect, to a small formality: she will only need to sew buttons on her eyes. Let's see ...
Huge success of children's literature became a cartoon popular on the big screen, Coraline finds today a new life in the opera, thanks to Mark-Anthony Turnage, composer acclaimed by the British scene as much as by big North American orchestras, and no doubt became the most famous in his kingdom. Bringing together classically and jazz inspirations, modernism and tradition, he imagined an opera full of swing, punch and twists. With the prestigious Royal Opera House in London, the Lille Opera is offering this family evening, a life-size opera that offers young people the pleasures of a colorful and sumptuous spectacle, funny and squeaky ... and rich in delicious frights. (Source: Opéra de Lille)
Purchase tickets here
15.05.2018
Florie will sing Sophie in Werther at the Opéra de Vichy new summer Festival
Florie will make her debut in the role of Sophie in a concert version of Massenet's Werther on July 22th at the Opéra de Vichy. Charlotte will be sung by mezzo-soprano Karine Deshayes, Werther will be interpreted by french tenor Jean-François Borras and the role of Albert sung by baryton Jean-Sébastien Bou.
More details here!
20.04.2018
L'incoronazione di Poppea à l'Opernhaus Zürich
Florie will take part in a new production staged by Calixto Bieto premiering June 24th at the Zürich Opernhaus. She will sing the roles of Fortunata and Damigella, amongst Julie Fuchs singing the title role, Stéphanie D'Oustrac singing Ottavia and Nahuel Di Pierro in Seneca. Musical direction will be lead by the baroque expert Maestro Ottavio Dantone.
25.03.2018
Ana Sokolovic Tanzer lieder
In January, Florie recorded with the Ensemble contemporain de Montréal and pianist Martin Dubé the Tanzer lieder cycle of internationally renowned Serbo-Canadian composer Ana Sokolović. The disc dedicated to the work of the composer will be released under the label Atma Classique and is scheduled for the spring 2019. This is the second collaboration for Florie with the composer. In the summer of 2015, she sang the title role of her opera a capella for 6 women's voices, Svadba, at the Aix-en-Provence Festival.
Learn more about Ana Sokolović.
29.01.2018
De Montréal à Bahreïn: Le parcours impressionnant de la soprano Florie Valiquette
Follow Florie on Twitter!